---
My MIT Past
I graduated in 1996 from MIT with a Bachelor of Science in Physics (course 8).

I'm also crazy enough to have double majored in Earth, Atmospheric, and Planetary Sciences (course 12). I was in it for the planetary science part.

My humanities concentration was in anthropology.

Speaking of classes (well, sort of), take a look at the quotes by professors I've compiled.
MIT Concert Choir
While at MIT, I was involved in a couple activities that were very important to me. First and foremost, I was a member of the MIT Concert Choir. The official Concert Choir homepage includes our past reviews in the Tech, the MIT student newspaper. During my last term we sang "Cantata 118" by Bach and Mozart's "Requiem", accompanied by the MIT Symphony Orchestra.

I have also been a member of Concert Choir for performances of these compositions:
Haydn's "Mass in D Minor"
Vaughan Williams' "Dona Nobis Pacem"
Brahms' "Requiem" (Accompanied by the MIT Symphony Orchestra)
Haydn's "The Creation"
Verdi's "Requiem" (Accompanied by the MIT Symphony Orchestra)
Bach's "Mass in B Minor"
Beethoven's "Mass in C"
Mendelssohn's "Die erste Walpurgisnacht"
Stravinsky's "Las Noces"
Concert choir did take up quite a bit of time, but it was definitely worth it... I really miss it.
LSC
The other major activity I was involved in while at MIT and for three years while I was at BU is LSC. LSC shows current movies and classic movies to the MIT community. They also try to bring interesting lecturers to speak on the MIT campus, but since important people are very expensive these days, they haven't done that much recently.

Since the fall of 1993 I was a projectionist, but in the summer of 1994 I became a projection subdirector. (I'm actually a licensed projectionist!) I may have been one of those people you LOVE to yell at when a movie gets messed up... My last term on LSC was Spring 1999. I still occasionally dream of projectors. :)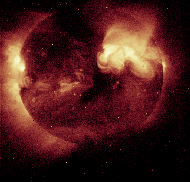 Undergraduate Thesis
The spring of my senior year I again worked for credit in the Earth, Atmospheric, and Planetary Science department for Professor Elliot as I did last fall, but this time I did my joint Physics and EAPS thesis. I calculated the separation in arc seconds of two stars that were occulted by Neptune's moon Triton in August 1995. I used a Hubble Space Telescope Faint Object Spectrograph image to find the separation. Unfortunately, the Faint Object Spectrograph was not really intended for astrometry, so my calculation did not seem very accurate. It also did not agree with the separation between the stars that was found using data from the occultation.
Summer 1995 UROP
In the summer of 1995 I also worked in the Earth, Atmospheric, and Planetary Science department for Professor Elliot. I worked on the data analysis of the occultation of a star by Triton, Neptune's largest moon.

I also got some practical observing experience working with telescopes at the Wallace Astrophysical Observatory, near Haystack Observatory. I helped adjust the polar alignment of the 14" Cassegrain telescopes so that the tracking would be more accurate. I also helped calibrate the spectrograph and make sure the image of the spectra was aligned correctly. A coworker and I used data taken by the spectrograph to calculate the dispersion of the spectrograph and to calibrate it even more.
Fall 1994 UROP
During the fall of 1994 I did a UROP for credit in the Earth, Atmospheric, and Planetary Sciences department. I needed a planetary science UROP for my minor, but with my new double major, I could really use the units.

For the UROP I reduced the noise in some infrared data taken during an occultation of a star by the comet Chiron. This infrared data, along with already analyzed optical data, will help determine the structure of Chiron.
Summer 1994 UROP
In the summer of 1994 I had a UROP with the X-ray Timing Explorer (XTE) satellite project in the Center for Space Research. The XTE satellite is being built partly at MIT, UCSD, GSFC, and NASA. The satellite will be in Earth orbit for several years and will be used to detect distant cosmic x-ray sources that would not be detectable from Earth's surface. The satellite was just launched on December 30, 1995. I was pretty much a grunge worker in the project, but I helped quite a bit with calibration of the flight detectors and the analysis of the calibration data. I also got to play with a six-foot x-ray generator. : ) I really enjoyed this UROP.
---
Back to my homepage.
avondale@astro.umd.edu