ASTR109, Winter 2008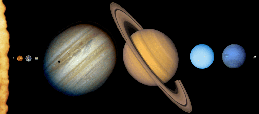 The Cosmos: Birth and Evolution
Lecture Details
Here is a summary of what is going on in ASTR109 day by day. Use it to help remind you of what you've learned or, if you need to miss a class, as a study guide. If you have missed a class, be sure to get notes from another student.

Lecture #1. Details of how class is organized (see Course Description and Lecture Schedule). Size and scale of the Universe. Powers of Ten video (from YouTube). Introduction to the ASTR109 website. Definitions of terms: Planet, Star, Moon, Asteroid, Comet, Nebula, Galaxy, Galaxy Cluster, Local Group, Black Hole. Relationship between stars and gas.

Lecture #2. Speed of light, age of the Universe, definition of a light year. Various motions of the Earth: rotation, revolution around the Sun, Solar System's motion around the center of the galaxy, the galaxy's motion. Constellations, the Celestial Sphere, the Milky Way, Apparent motion of the stars across the sky.
Tutorial: Week #1. Discussion of Earth/Moon System, sizes and distances. Clues to Solar System formation - why do planets orbit along nearly circular paths? Why do they all orbit in nearly the same 2 dimensional plane? Why do they all go around the Sun in the same direction? The properties are clearly not random. As we learn about the Solar System, be alert for additional patterns - we will use them to test theories for how the Solar System formed. Some discussion of homework problems. Some discussion of magnetic fields and Earth's molten iron core.

Lecture #3. The cause of seasons on Mercury, Venus, Earth, and Mars. Phases of the Moon. Rotation of the Moon. Lunar and solar eclipses. The wandering stars. New terms: midnight sun, equinox, solstice, umbra, penumbra, partial eclipse, scientific model.
Lecture #4. Importance of models in science. The geocentric and heliocentric models of the Solar System. Circles and Ellipses. Retrograde motion. Ptolemy, Copernicus, Brahe, Kepler, Galileo. Kepler's 3 Laws. Earth in comparison to other terrestrial planets. The Sun, Mercury. The effects of an atmosphere on day/night temperatures.
Tutorial: Week #2. Quiz #1 today! The quiz covers topics from HW#1 and from all class meetings up to this point.

Lecture #5. Atmospheres of Venus, Earth, and Mars. Origin of Venus' Carbon Dioxide atmosphere. Temperatures on Mercury, Venus, and Earth. Ice on Mercury? Sunlight heats planetary surfaces. Atmospheres trap heat: the atmospheric greenhouse effect. Thinning of atmospheres with height. Shapes of large and small Solar System bodies.
Lecture #6. Much of this material is covered on the "Earth's Interior" website linked from the ASTR109 main page Definitions of P & S waves and how we use them to probe Earth's interior. Planetary differentiation and the formation of iron cores. The interiors of Mercury, Venus, Earth, Mars, and the Moon. Small bodies cool faster than large ones. Plate tectonics is driven by mantle convection. What drives the convection? Oxygen in Earth's atmosphere. Jupiter and its satellites.
Tutorial: Week #3. More detail on the Earth's Interior website. Earthquakes and Volcanoes. Mantle hot spots and the growth of shield volcanoes (e.g. Hawaii). Seafloor spreading and the age of seafloor rocks. Magnetic field reversals. The uniform young age of Venus' surface.

Lecture #7. Survey of the giant planet, their main satellites and their ring systems. Pluto and Eris. Sources of comets: the Kuiper Belt and Oort Cloud. Recap of clues in the Solar System that hint at how planet formation works. The nebular theory: collapse of a large cloud of dust and gas to form a flattened disk of material. Coalescence of the planets from this disk. Link to a similar disk of debris: Saturn's rings.
Lecture #8. Formation of the Solar System. Collapse of a giant gas cloud, which spins faster, flattens out, and heats up. The spinning chair of DOOM class demo! Prof. learns that our class has only one brave volunteer. Growth of dust grains to km-sized planetesimals to 1000-km-sized protoplanets. Giant collisions in the end stages are responsible for Earth's Moon and Mercury's large iron core. Lots of collisions is consistent with the heavily cratered surfaces that we see all over the Solar System. Similarities between planet formation and satellite formation. Explanation for terrestrial/giant planet dichotomy. Why Jupiter is largest of all the planets.
Tutorial: Week #4. Quiz #2 today! The quiz covers topics from HW #1-3, Quiz #1, and from all class lectures and tutorials up to this point. Starting HW #4 early might also help you.

Lecture #9. All about the Sun. What is it made of? How do we know fusion of H to He powers it? Structure of the Sun: Corona, Chromosphere, Photosphere, Convection Zone, Radiative Zone, Core. Gravitational Equilibrium. Radiative Equilibrium. Temperature inside the Sun. Fission vs. Fusion. Why high temperatures are needed for fusion. How the Sun regulates its internal temperature.
Lecture #10. Other stars. Open and Globular Star Clusters. Spectra of stars. Thermal radiation. Absorption lines. Behavior of material with temperature. How we can measure temperatures and compositions of distant stars. The largest and smallest stars. The brightest (most luminous) and dimmest stars. The HR diagram. How we measure stellar sizes (radii). The main sequence. Stellar lifetimes. Giants and Dwarfs.
Tutorial: Week #5. How to solve Moon Problems! See example problem under "Quizzes" on the Assignments page. Properties of Ellipses. Earth to Mars transfer orbits.

Lecture #11. High mass stars explode as supernova. Hydrogen balloon demo. Giant stars have finished burning hydrogen in their cores. White Dwarfs have finished all their nuclear burning. Low mass stars create planetary nebula from low-speed winds. Inside every planetary nebula is a white dwarf. Creation of the elements in the periodic table. If lighter than iron, formed in stars. Heavier than iron, formed in supernovas. Fusion can extract energy from light elements, fission extracts energy from heave elements. Iron is the most stable element and no energy can be extracted from it by fission or fusion.
Lecture #12. White Dwarfs, Neutron Stars, Black Holes. White dwarfs are Earth-sized and are supported by relativistic electrons: "electron degeneracy pressure". More massive white dwarfs are smaller in size! Most massive white dwarf is 1.4 Solar masses. Add a bit more mass and they explode as supernovas! So there are two types of supernovas: a "white dwarf supernova" and a "massive star supernova". In massive star supernova, a compact remnant object is left behind (a 10-km neutron star for large stars or a black hole for the very largest stars). White dwarf supernovas blow the object to bits and leave no small remnants behind. Neutron stars rotate rapidly and have large escape velocities. Some beam radiation and are seen as pulsars. The rotating radiation beam from a pulsar is like the light beam from a lighthouse. Neutron stars are supported by neutron degeneracy pressure - most massive neutron star is 2-3 solar masses. If more massive, it would collapse to a black hole. Event Horizon is the point where the escape speed is the speed of light. From within this zone, nothing can escape. Black holes warp space and time in complicated ways.
Tutorial: Week #6. Quiz #3 today! The quiz covers topics from HW #1-5, Quizzes #1 and #2, and from all class lectures and tutorials up to this point. It will have a very strong emphasis on stars (lectures 9-12).
---

Back to the ASTR109 Home Page