ASTR120, Fall 2007
Introduction to Astrophysics - Solar System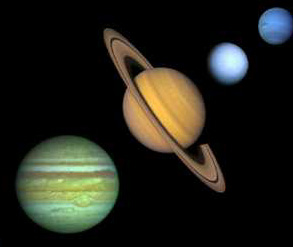 Prof: Doug Hamilton
Website: http://www.astro.umd.edu/~hamilton/ASTR120
Phone: (301) 405-1548
Email: hamilton@astro.umd.edu
Office: CSS 1245
Office Hours: TuTh 12:15pm-1:15pm or by Appointment
Textbook: Universe, by Roger A. Freedman and William J. Kaufmann III (eighth edition - ISBN 0-7167-8584-6). Note: for an additional fee, you can order the e-book and/or Starry Night software but I will not require these for the class. This book will also be used for ASTR121 in spring 2008.

---
Course Description:
Welcome to Astronomy 120! You are about to embark on an ambitious project - to survey the entire Solar System in one short semester. We will study the real and apparent motions of the stars, planets, and moons and will investigate the causes of the seasons and eclipses. We will explore the surfaces of alien worlds and investigate their interiors and atmospheres. We will learn how planets, moons, asteroids, comets, and rings form and we will study the key physical processes that make them tick. Where possible, we will tie those concepts back to issues relevant to your life on this planet. For example, global warming, an important worldwide issue, is central to understanding the differences between the environments of Venus, Mars, and Earth. At a more philosophical level, understanding the Solar System gives us a better perspective on our place in the universe. We hope that you will enjoy the course and learn a lot!
Class Organization:
Lectures meet in CSS 2428 on TuTh from 11:00am to 12:15am. Lectures led by the professor will include discussions, worked examples on the whiteboard, slides, videos, etc.

The Discussion Section meets in CSS 2428 on Fridays from 2:00pm-2:50pm starting on Sept. 7. Discussion sections are led by graduate student Teaching Assistant (TA) Mia Bovill. The section provides a more informal environment for further developing the material taught in class. The TA will answer questions about the lectures, reading, and homework and will also hold review sessions before exams.

The Class Web Page is a useful resource that we will use extensively. The website contains links to course information, supplementary readings, and interactive programs to make ASTR120 fun and to help you learn. You will be able to monitor your estimated grade in the class as the semester progresses, and communicate with other students, the TA, and the Prof. on the class bulletin board. In addition, this site is also a gateway to many other astronomy links, including sites with up-to-date astronomical images that are made available to the public from telescopes in space and on the ground.
Course Expectations:
Attendance: In order to succeed in this course, I expect you to attend ALL lectures and discussion sections. This is very important! The material on the homeworks and exams are based upon the material covered in the lectures, the text, and discussion sections. If you have to miss a lecture or section, be sure to look at another student's notes and make sure that you understand what was covered. See me or the TA if you have questions. There will be times during the semester, in both lectures and sections, when I will ask for written responses to questions. Your written answers will count towards your grade in the class.

Preparation: I expect you to be prepared to work. You will understand the lecture more easily if you preview the reading assignment. A more careful reading is recommended after lecture. You should study your class notes sometime before the next lecture to make sure that everything is clear. I encourage you to ask questions in class, in section, during office hours, or over email.

Study Habits: Study wisely and ask for help if you need it. If you just cram the night before the exam, you probably will not do very well. It is better (and easier) if you keep up with the material on a daily basis. Make it a point to read the chapters in pace with the lectures; this is one of the best study habits you can have.
Grading:
I grade on a point scale with different assignments weighted as shown in the table.
ASSIGNMENT

Homework

Discussion

Open House

Exam I

Exam II

Final

Total

POINTS

210

150

40

100

100

200

800
Letter grades will be assigned based upon your curved cumulative score. Here is how your grade will be determined from your point total in the class.
Letter Grade

Course Total

Percentage

A

720-800

90%-100%

B

640-719

80%-89%

C

544-639

68%-79%

D

440-543

55%-67%

F

0-439

0%-54%

The point scale makes it possible for everyone in the class to do well. For example, if everyone scores above 80% in the course, you would all receive a B- or better letter grade. I do use +/- modifiers: you will earn a "+" if you are in roughly the upper 1/3 of students with the same letter grade and a "-" if you are in the lower 1/3. I may adjust the number of points required to get a given grade depending on the class averages; however, any adjustment will make it easier to get a given grade, never more difficult. You can monitor my current estimate of your grade from the class webpage as the semester progresses.
Homeworks
There are a total of ten homeworks in this course; all will be posted to the Assignments link from the class website. Please type or writeup your assignments neatly. Solution sets will be distributed in section.
Although you may discuss the homework problems with your friends, the final writeup must be in your own words. Copying from a friend's homework, copying from a book, or allowing a friend to copy your homework is academic dishonesty and will not be tolerated in this class. If you consult a reference other than the course text, please acknowledge it in your homework - this includes websites! Your weekly hour-long discussion section, which begins Friday Sept. 7, is an integral part of this course. The section is run by an experienced TA, Mia Bovill, with just general guidelines from me; they will typically include a review of lecture material, presentation of problems and material not covered in lecture, exercises and quizzes etc. These sections serve as a forum to enhance your understanding of the course material. Your TA is an excellent resource; get to know her and use that resource! Homeworks, Exams, and other class work will be returned to you during your discussion section. Please attend all discussion sections. If for some reason you have to miss a section meeting, talk to Mia before your absence and get permission from her to do a makeup assignment.
Open House
An additional class requirement is to attend at least one open house at the UMD observatory during the semester. The astronomy department hosts an open house on the 5th and 20th of each month at the university observatory which is located just off campus on Metzerott Road. Each open house consists of a speaker talking about some aspect of astronomy. Following this short talk, there will be public viewing of the heavens with the observatory's telescopes (weather permitting). Dress warmly as you will be outside when using the telescopes! A list of scheduled speakers and topics is available online at http://www.astro.umd.edu/openhouse/.
Your open house assignment consists of three parts:
Attend one open house anytime during the semester that is convenient for you. Listen to the speaker, tour the observatory, and take a look through the telescopes.
Write a description (include the name of the speaker) summarizing the presentation. You should also include a brief description of the interesting question(s) that were asked along with the answer(s) given by the speaker. Emphasize things that you learned and/or found interesting.
Describe what you observed through the telescopes. Please include (legible) drawings in this description! If weather does not permit observing, say so in your report. In this case, give a description of the observatory and the telescopes (there will be a brief observatory tour given even in poor weather).
The paper should be between 2 and 3 pages long; please proofread and check your spelling! To avoid everyone rushing to the observatory at the last minute, we will adopt the following policy. There will be three due dates for this report. If you turn your paper in early, you will earn extra credit points in addition to the normal points for the assignment. Go to one of the early Open Houses!
Due Date

Extra Credit Points

Tuesday, Oct. 9

2

Tuesday, Nov. 13

1

Tuesday, Dec. 11

0

When you go to the observatory, you will be asked to write down your name and instructor. Please note that in order to obtain extra credit, you must turn in your paper on either of the first two due dates. If you went to the observatory early in the semester but do not turn in your paper until the last due date, you will not receive extra credit. This is in part to encourage you to write the paper soon after the open house while your memory is still fresh.
Exams
There will be two in-class midterm exams which are closed book with no notes, no calculators, and no electronic devices allowed. Each exam will consist of short answer questions, problems, and three or four essay questions. These exams are incremental (i.e., non-cumulative) checkups on how well you have learned the material. The schedule of lectures included in this syllabus shows what material will be covered on each exam. If for whatever reason, the University is officially closed on the exam date, the exam date shifts to the next lecture date.

According to University rules, the final exam for this course will be held on Thursday, December 13 from 8:00am to 10:00am in CSS 2428. This final exam is cumulative, that is, it will cover all material discussed in this course. However, the the weight on the last several chapters not covered by the midterm exams will be higher than on earlier chapters. The final will include short answer, essay, and problem solving questions with the exact combination to be determined. The final exam is also closed book with no notes, calculators, and electronic devices allowed.
Missed Exams
If you are not able to take an exam due to illness or other legitimate reasons (as outlined in the Academic Info section of the schedule of classes) and you wish to take a make-up exam, you must

1) contact me by email before you miss the regularly-scheduled exam and
2) submit a valid written excuse for your absence within one week after the regularly-scheduled exam.
Extra Credit
There are several ways to earn extra credit in this class:
Attend Class: I will occasionally ask questions worth bonus points during lectures.
Post to the Class Bulletin Board in first month of the class.
Do the Extra Credit questions that will be part of several homework assignments.
Turn in your Open House assignment early in the semester (see above).
Do the Extra Credit assignment for the Discussion Section.
There will be no extra credit assignments besides those listed here.

ASTR120 is intended for science majors and requires a solid high-school level science and math background. This course satisfies the CORE Distributive Studies requirement for a non-lab physical science course (CORE code PS). ASTR121 counts for lab physical science CORE credit.
Academic Integrity
The University of Maryland, College Park has a nationally recognized Code of Academic Integrity, administered by the Student Honor Council. This Code sets standards for academic integrity at Maryland for all undergraduate and graduate students. As a student you are responsible for upholding these standards for this course. It is very important for you to be aware of the definitions and consequences of cheating, fabrication, facilitation, and plagiarism. For more information on the Code of Academic Integrity or the Student Honor Council, please visit http://www.studenthonorcouncil.umd.edu/code.html.
---

Back to the ASTR120 Homepage