ASTR 330, Spring 2006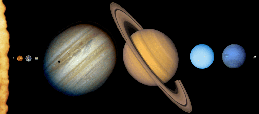 The Solar System
Class Information
Course Textbook: An Introduction to the Solar System by Neil McBride and Iain Gilmour. (Be sure to get the Revised First Edition published in 2004 - ISBN 0-521-54620-6) Typos
Assignments. Check here for up to date information on Homeworks and Exams!
Prof's Office Hours (in CSS 1245): TuTh 2:00-4:00pm or by appointment
Talk to other students about astronomy! Help each other on homework problems! Use the ASTR330 Bulletin Board.
Final Exam: Thursday May 18, 1:30-3:30pm in CSS 2400.
Material to Help You Out
GENERAL
SOLAR SYSTEM

Go to Doug Hamilton's Home Page