ASTR 430, Fall 2003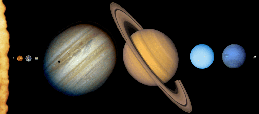 The Solar System
Time: Wednesday/Friday 12:30-1:45

Room: CSS 2428

Prof: Doug Hamilton

TA: David Garofalo

---
Class Information
Course Textbook: The New Solar System (J.K. Beatty, C.C. Peterson, A. Chaikin, Eds.).

New $40, Used $30. (Be sure to get the Fourth Edition.)

Prof's Office Hours (in CSS 1245): after class or by appointment
Final Exam: Friday Dec. 19, 8:00am-10:00am in CSS 2428.
Online Course Evaluation Form (Access from Dec. 1 - Dec. 12).
Ice the Prof!! Photos Available!
Computer Programs for use in ASTR430
Useful Links
---

Go to Doug Hamilton's Home Page