Ice The Prof!!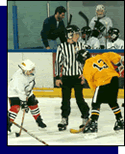 Extended ASTR430 Office Hours

Time: Thursday Dec. 11, 8:00pm

Place: Wells Ice Rink, 5211 Paint Branch Parkway, less than a mile from campus. 301-277-3719
Directions: Leave the main entrance to campus and cross Rt. 1.
Go under the metro line, past metro, and through a few traffic lights.
Wells Ice Rink is on the left before you reach Kennilworth Ave.
Cost: $5 to get in, $4 to rent skates. Cheaper if we have a group of ten!
No Checking!
Action Photos!

Back to ASTR430