Seminars for Teachers, Spring 2010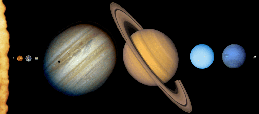 The Solar System, the Earth,
and Our Future
Date: Friday, Feb. 26, 2010

Time: 9:00am-3:00pm

Room: 0135 Taliaferro Hall

Prof: Doug Hamilton

---
Course Description
This is a one-day course broken up into a 3-hour morning session and a 2-hour afternoon session. The morning session will put the Earth in its place in space and time by summarizing the known extent of the Solar System and discussing its origin and ultimate fate. The afternoon session will focus on the atmospheres of the Earth-like planets, covering the runaway greenhouse effect on Venus and the slow but insidious loss of Mars' atmosphere to space. The course concludes with a discussion of the facts and fears behind global warming here on Earth. The course content will be woven around a set of interactive online tools that I have designed for teaching astronomy: The Astronomy Workshop. These tools are already available to the public, and one of my goals will be to familiarize teachers with these resources, giving them up-to-date knowledge for use in their own classroom demonstrations and/or assignments. Ideally, teachers will have access to internet-enabled machines during the sessions so that they can get immediate hands-on experience. Each of the five 1-hour modules will be informal enough to encourage questions at any time, with specific 10-minute segments allocated to questions, discussion, and/or hands-on experimentation.

Morning Topics:
Surveying the Solar System. (9am-10am) A brief history of the highlights of planetary exploration followed by a discussion of the Solar System's surprising regularities. These regularities provide important clues as to how our Solar System came to be. Featured WebTool: Solar System Visualizer an animation of the planets, satellites, and small bodies of the Solar System
Formation of the Solar System. (10am-11am) A detail discussion of the current understanding of how our Solar System formed. Heavily cratered worlds are clues to a violent past. The rocky planets were forged in giant collisions. How did these stupendous events shape the Earth? Featured WebTool: Solar System Collisions, a calculator that determines the effects of an impactor of given size on Earth.
Fate of the Solar System (11am-12am) A discussion of the physics inside the Sun. How does the Sun work? What fuels it? And what happens when the Sun runs out of fuel? Featured WebTool: The Sun's Life, an animation of the detailed changes that our Sun will undergo in the future.
Afternoon Topics:
Climate and Climate Change on Earth, Venus, and Mars (1pm-2pm) A study in contrasts. In the distant past, Earth and its neighboring planets were similar, but while Earth remained temperate, Mars became too cold for life while Venus became too hot. What processes led to this divergence and what lessons can we learn from this?
Global Warming on Earth: How Serious? What can you do? (2pm - 3pm) A summary of the problem: Separating fact from fiction. The skeptic, the true believer, and the cautious middle road. Electricity, gasoline, and renewable energy.