The Dance of Apollo and the Seasons to the Music of Time
"it is only as an aesthetic phenomenon that existence and the world are eternally justified." -- Nietzsche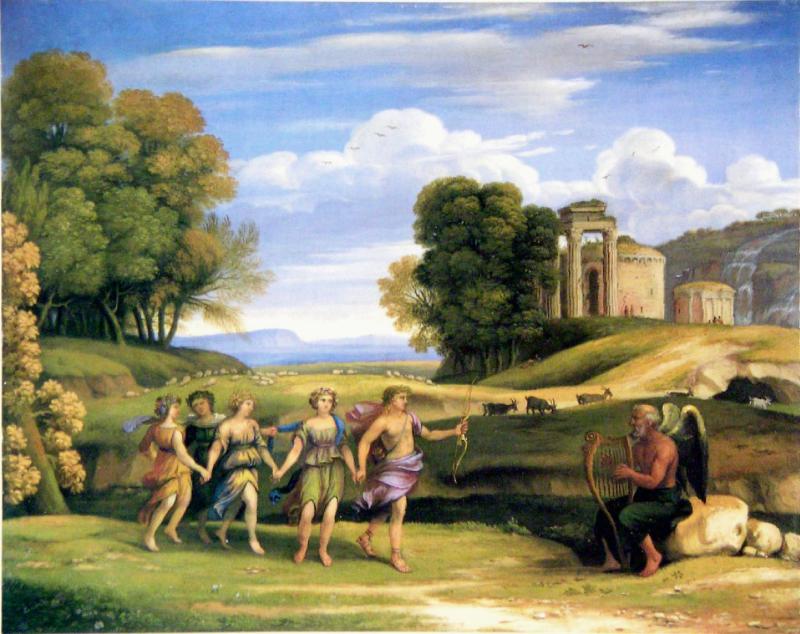 In his will of 1663, Claude gave to his nephew Jean Gellee "a picture with its gilt frame which represents the dance of the four seasons". This painting, as Roethlisberger(2) writes, "is [Claude's] final and most serene solution of a design which he elaborated in a pictorial drawing and in an etching, both dated 1662. The painting is outstanding on several accounts. Immaculately preserved, it shows a chromatic intensity no longer found in his canvases, most of which have darkened. It is also his last painting on copper, done not on commission, but for himself to keep ... by February 1663 Claude was gravely ill ... Had he indeed died at this stage, ... this painting, with its unique theme, would have appeared all the more to represent a final declaration about his art, an urgent and conscious summing up in extremis of a profoundly held belief. This it is in any case, being a classically balanced, deeply poetic work, in which all tension has been resolved in the expression of the harmonious rhythm of nature. ... Above Chronos the flow of time is marked by the ruins, the cascade, and the cavern, while a distant view opens up beyond the dancers, assigning an infinite dimension to the change of the seasons."

The existence of this painting was unknown until 1987, when it surfaced at a sale in Stockholm. While its previous history is unknown, it may be relevant that Queen Christina of Sweden (who died in Rome in 1689) purchased three albums of Claude's drawings from his heirs. Thus it may be that she also bought this painting and it thus ended up in Sweden.

References:

(1) Roethlisberger, Marcel, Claude Lorrain's "Dance of the Seasons", Pantheon, vol. 45, p103 (1987).
(2) Roethlisberger, Marcel, The Dimension of Time in the Art of Claude Lorrain, Artibus et Historiae, No. 20, (1989).