---
Viewing the Milky Way Through Dark Matter Glasses
---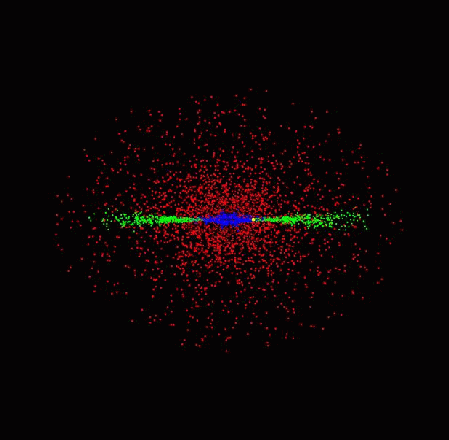 How the Milky Way might appear through "dark matter glasses." The blue points represent stars, the green points show the location of the hydrogen gas layer, and the red points show the extensive, almost spherical, distribution of dark matter. The yellow dot indicates the location of the Sun. It is the changing thickness of the gas layer with position in the Milky Way that has enabled Drs Robert Olling and Michael Merrifield of Southampton University to measure the shape of the dark matter distribution.

These results were presented at the National Astronomy Meeting at Southampton University (April 7 - 11, 1997).
Further details:
Other versions of the above figure:
For more information, contact:
---
Queries concerning this page should be addressed to Mike Merrifield
Last updated March 28th 1997.