Rob Olling's Teaching Page
From the fall semester 2010 on (6 times), I have taught ASTRO300, ``Stars and Stellar Systems'' for non-science majors. This class is based on "The Cosmic Perspective," by Bennett, Donahue, Schneider & Voit (7th edition), "e-book" version. I use "Mastering Astronomy" for homeworks, tutorials and visual quizzes. The lectures include basic physics (Newtonian gravity, special & general relativity, quantum, optics, matter & light), stellar structure and evolution as well as galaxy morphology and formation and cosmology. I typically also assign the students a project in the form of writing a realistic ``Observing Proposal." For the proposal, the students presented a Notice of Intent (NOI) about two weeks before the proposal is due. Based on those NOIs, I (often) suggested to modify the proposals to more closely follow customary practice. The proposals are then evaluated both by me and by the students themselves (in a peer-review session).
Here is some (mixed) feedback from my students (slightly edited):
As a nonastronomy major, I found ASTR300 to be a very good introduction to the field. While he started with highschool level of physics, he rapidly brought us up to speed. Instead of lowering his standards, he instead taught us to we could understand his standards. Because of this course, I definitely want to keep taking astronomy courses. Dr. Olling's occasionally got longwinded, but he was very approachable. At times he almost ran the course like a seminar. He treated students with the utmost respect in office hours, and proved to be very considerate of student concerns. If you asked a question, he'd take quite a bit of time to make sure you understand what's going on. And if you want to keep learning more, he'll give you the tools/papers to keep on learning. In short, Dr. Olling was a very good teacher.
Dr. Olling was one of the best professors I have had, and made an extremely cool topic very easy to understand and very easy to engage in. Although some of the homeworks dragged on forever, I felt that I understood the material a lot better because of the amount of work I would have to put into the homeworks. Dr. Olling was a fantastic professor.
The homework on mastering astronomy didn't always line up with the course material, so that we had homework on things we were not taught or expected to know for the course. I don't know if it's because it's for nonscience majors, but this class was SO slow and boring. I stopped going after the first week. Most of the material I learned in ASTR100. I found the professor tedious and not interesting. He didn't seem that interested in the material and wasn't good at explaining it. Fortunately, I never had to go to class because the homework and slides were online, and I skipped almost every lecture. It also wasn't fun or interesting, which was disappointing to me. I'm doing an astronomy minor because I love space and want to learn more. So this class was very little work for a good grade.
Professor Olling is clearly way more brilliant than the level of this class and that shows, however he makes class funny and interesting because he is passionate about what he does.
Prof. Olling has great knowledge about his subject, Galaxies, and was quite thorough in presenting his data. He used an education company's prepared slides most of the time. I would have preferred that he use less of these and more of his own.
I liked the class, a tad difficult on the math side but bearable. The math is unavoidable when teaching something as complicated as a universe so all is good. Other than that, the material in the class is very informative. I liked it. The online homework was a tad tedious.
I have also taught the Collisions in Space," class (ASTR220) at UMd (three semesters). For me this is also a very interesting course with a special focus on impacts on the Earth and the impact that killed the dinosaurs. For this class we read an interesting book by Powel on how the impact theory came about. More details on this course are available here.
One of my students, J. Medina, told me about this wonderful animated gif. It shows the relative sizes of Earth, Moon, Planets and various noteworthy stars. I include it right here.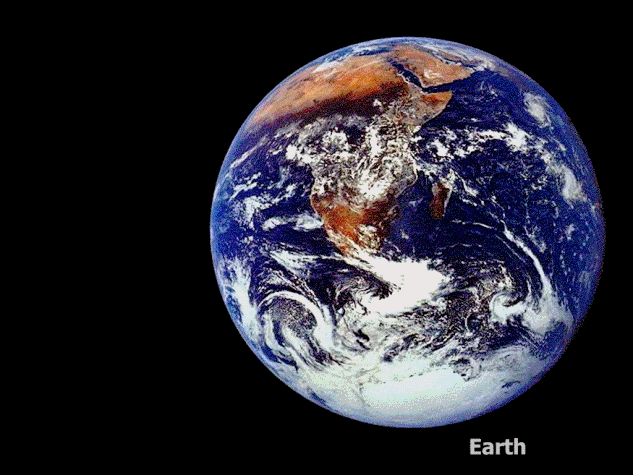 I have mentored four students. 1 high school student: summer project; 1 graduate student: 2nd year project; 1 graduate student for masters thesis; 1 computer-science major research project (ASTR498) [this student used to be in my ASTR300 class]; 1 graduated student (astronomy minor; computer science major; recruited from my A300 class) on a project to help him gain practical experience in programming, data reduction and astrometry.
In 1997 and 1998, at the University of Southampton, I taught part of ``Physics of the Solar System'' (a 1st, 2nd, and 3rd year course for science majors), and made a selection of nice, interesting and entertaining web sites. Try them!
Last Updated: 5 June 2014