Life in Cambridge, Part IV
May-July 2004
---
May was full of social events. We got off to a good start on 1 May with a May Day party complete with madrigal singing and dancing around a maypole. We ended the evening with a dozen or so diehards by teaching them how to play the dice game Tijuana. Our friend Steve Mazer visited in May bringing much needed Pepperidge Farm products: Goldfish and Mint Milanos. We took him punting and tourbussing, generally soaking him in essence of Cambridge.

Later in the month, we all went to a garden party thrown by Alan's work held in the extensive grounds of Trinity College's Fellow's Garden. The girls wowwed everyone with their Californian frisbee throwing techniques.
The Pittsburgh Bum on the Cam with 2 NJGFCs
---
May 24th through 29th marked the "Firsty-Third Cambridge Beer Festival" run by the local CAMRA chapter. Alan and Debbie enjoyed a leisurely lunch one day trying to decide which of the 150+ cask ales to try. Debbie ended up volunteering behind the counter and polished up her skills as a barmaid which turned out to be very useful later (see below). By sheer coincidence (?) our Cardiff Rose friend Kelly Revak (a.k.a. Poke) visited for a few days and, like Steve, was properly cambridged. Unlike Steve, this involved lots of ale at the festival on her way back to Oxford by bus.
---
| | |
| --- | --- |
| | Alan's Mom arrived at the end of the month and stayed for two weeks. The only thing she specifically asked to do was to see Stonehenge. So we madly booked rooms at a hotel in Salisbury (a creaky barely refurbished old coaching inn: every floor guaranteed to be non-Euclidean; ancient huge oak beams throughout the building) and arranged for a private afterhour admission to Stonehenge. For a slightly increased fee, we were able to dance among the stones themselves the night we arrived. Alan played the Abbotts Bromley Horn Dance on a recorder (hey, it's the oldest piece of music I know) with only a guard watching at a discreet distance while the girls danced away. The Sun set, the Moon rose and the five of us had a unique family moment. |
| We also spent a day touring Salisbury city center: the cathedral, a museum a cool organic farmer's market (organic champagne from Devon...hmmm...wasn't too bad, actually). On our last day, we visited the ruins of Old Sarum looking down on Salisbury. On the drive home, we managed to squeeze in a visit to Avebury (see Life in Cambridge, part II for more details from D&A's trip in October 03). | |
---
That weekend (June 5th) was the annual Cambridge Strawberry Fair on Midsummer Common. A big dash of Berkeleyesque booths selling tie-dyes and chai and way too much overly loud music. Debbie volunteered again in the Real Ale tent and had a great time with the CAMRA lot. As if that weren't busy enough, that night we held the Yeomen cast video party (Alan borrowed a dvd projector from work to "show a presentation to some students"; hey, honest to a fault). The following week, Alan and his Mom went to London for a very quick tour: the highlight was crossing Millenium Bridge together. The three adults also caught the new Harry Potter flick while the kids were in school (short review: too short a movie).
On the 12th of June, Alan took the kids to the Cambridge Children's Festival Family Fun Day on Jesus Green. There were a few overpriced rides and a lot of cool tents with science demonstrations. That same afternoon, the kids' school held the Mayfield Summer Fayre with an American wild west theme (you know, mildly offensive stuff about Cowboys and Indians).
---
June 16th marked the beginning of a new career for Debbie. Given the lousy exchange rate, and our desire to travel as much as we can, we decided that Debbie really needed to earn some money while we're here. So, she's taken a part time job at the local... pub, that is; the Carlton Arms. Debbie the barmaid! She's quite enjoying it so far, and the money's decent. Of course, we're turning a lot of her earnings back over to the owners each week, as we tend to do a family outing to the pub just about every Friday for dinner. What a wonderful Sabbath tradition.
In an effort to keep up her theater career, Debbie also decided to find out what the Cambridge May Balls were like by stage managing for one them, the Peterhouse May Ball. This meant showing up for work at 6pm, and then shepherding the various performers - including some fairly big-name jazz groups - to their appropriate stages throughout the night, finishing up at 5:30 the next morning! The verdict: fun, good food, good music, nice to get paid, would not (in general) lay out for a ticket though as they're usually about £100.
| | |
| --- | --- |
| She then got involved with another show at the Cambridge Arts Theatre (where the Yeomen performances were in March), this time doing props for a semi-pro production of Two Gentlemen of Verona. She had fun hitting the junk stores ("charity shops") and spending someone else's money. The only problem with working on this production was that it interfered with the time she could spend at the Carlton Arms Beer Festival. They set up a bouncy castle and had face painting so the kids had as much fun as we did. | |
| | Invest in the company that makes these things |
---
In July, our Bay Area friends Chris & Erica came to stay for a week. Our revenge was to immediately drag them, bug-eyed and jetlagged, to Cambridge's Annual Big Day Out (a street fair with rides and a French market). We bought way too much cheese and French-style sausage and watched people pay £15 per person for a slingshot ride that lasted 10 seconds. After a real ale at the pub, Terri caught Chris napping (picture to follow). Alan surprised Chris a week later by showing up at the Lausanne Weak Lensing Conference. Chris' revenge was to force Alan to work on a paper with him (coming out soon). Switzerland is very expensive, very cute and hot & humid in Summer. The hotel Alan stayed in had a clock which chimed every quarter hour. One guess as to where his room was. Chris and Alan did catch up with their colleague/friend Roberto Trotta in Geneva. Roberto invited us over for dinner and made pasta from scratch in his efficiency apartment. Yum.
Near the end of the month, another Cardiff Rose beauty, Elise Mahan came to visit for a couple days on her way to the continent (doing the whole American girl in Europe trip thing). A few days later, Debbie's Aunt Rachel, Uncle Charlie and Cousin Rebecca showed up and visited Cambridge for a day as part of their England trip. On the 29th, we packed up and flew to the Bay Area for three weeks, during which we only managed to have sushi twice. For more on our Bay Area trip, see the next section (Life in Cambridge part V).
---
In other news, Debbie has been baking bread on a regular basis. She's been making several different types of bread with authentic San Francisco sourdough starter. This is the one that her Mom originally got from a California work contact of her Dad's back in the early '70s! This starter's been around: flown to Maryland; driven back and forth to Ohio while Debbie was in college; driven to Toronto for grad school; back to Maryland; flown back out to California; and now here in England. The commercial bread here ranges from fairly edible down to terrible, so thank the Goddess she has both the ability and the time to make our own. She still hasn't quite matched Semifreddi's batard crust, but she's getting closer; the inside is nearly perfect. Now if we could just figure out how to make a Zachary's pizza...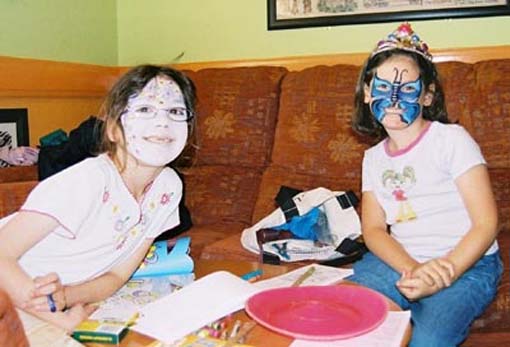 The girls have adjusted well to life here. It's hard to believe they'll be in 1st and 3rd grades this fall ("Year 1" and "Year 3"). Rowyn especially has made lots of new friends. Naomi, as always, a bit quiet and less socially outgoing, but even she has made a couple of good friends in her class. Both kids are reading now, which is very exciting for them and for us. We're still reading to them as well, and have now introduced them to Paddington Bear and the Wombles, as well as American classics like Curious George. Alan had been reading Harry Potter to them as a continuing bedtime story. We also bought the Harry Potter and the Philosopher's Stone video game. However, the target demographic is a bit older than 5-7 years old, so Daddy has had to help them play it a lot. Darn.
Or perhaps you should invest in face paint
---