| | |
| --- | --- |
| ADASTRAgrl | Alexandria, VA |
ADASTRAgrl's
Aurorae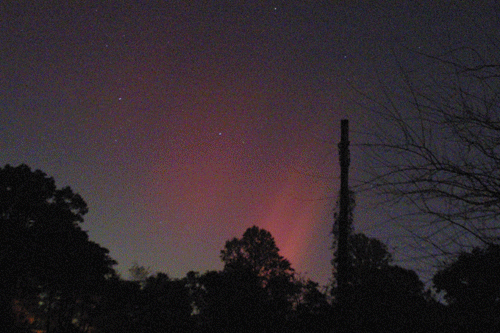 Twenty images were taken with a Canon D30 with a lens set at 28mm, 10 sec exposures at 800 ISO, every 25 sec, raw mode. The images were converted to tiff, then in PS reduced to 8bits, stacked, and animated in ImageReady.

The streaks are airplanes (remember 10 sec exposures), the dots that are just barely moving up are the stars of Perseus (Algol or beta Per is the bright star just left of center).

date: 30 October 2003, approx. 6:45pm EST
location: UM Observatory, College Park, MD
setup: Canon EOS D30 w/28mm lens
film: CMOS chip ISO 800 equivalent, raw
exposure: 20 @ 10sec each about 25sec apart

comments: lightly processed (brightened) in Photoshop, layered in PS, animated in ImageReady; watch the stars of Perseus rise!
( Welcome | About Me | Gallery | Links | Site Map )
---
Last Updated:
Monday January 14, 2008

by Elizabeth Warner

© 1995 - 2008 Elizabeth M. Warner