| | |
| --- | --- |
| ADASTRAgrl | Alexandria, VA |
ADASTRAgrl's
M35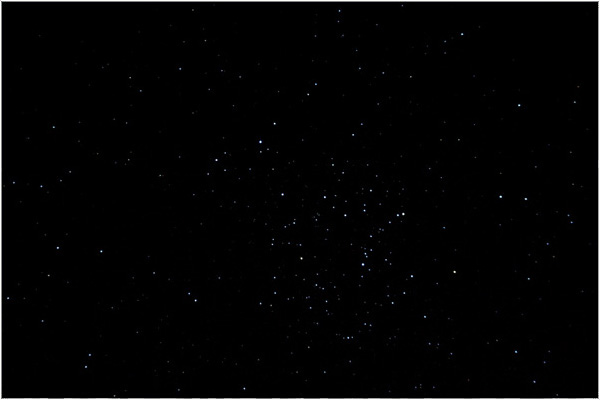 Camera Setup and Processing
camera: Canon EOS D30, prime focus
film: none, digital (equiv. ISO 800)
exposure: 20 @ 10sec each
processed with ImagesPlus 1.69
Telescope Setup
date: 27 March 2003
location: UM Observatory, College Park, MD
telescope: AP 152mm f/9

comments: Unfortunately, I already had some images on the camera drive so I couldn't change the file format to Canon raw... so first, in ImagesPlus 1.69, I first converted the jpegs to tif, then aligned the images using 'Translate, Scale Rotate' (probably overkill, but I had already kicked the telescope portable pier once or twice just hard enough to move the pier). The images were then combined a number of times (adap. add., avg, ext. add). I then did some minor background and contrast adjustments on those and the 'best looking' one (I'm pretty sure it was the adap add one... I was doing this at 2am this morning!) is what you see. I thought I had been saving the process history but when I opened it for that image, all it said was 'read...' so I may have forgotten some of the details. I did play with the Digital Development but I can't recall now if I kept those changes... I don't think I did for this one...

Below is a single original image and below it the approximate field of view from SNP4.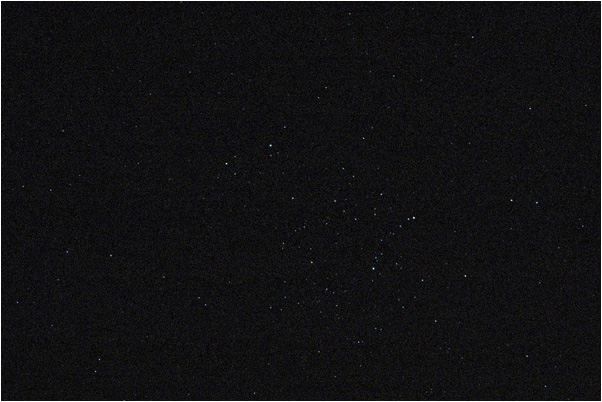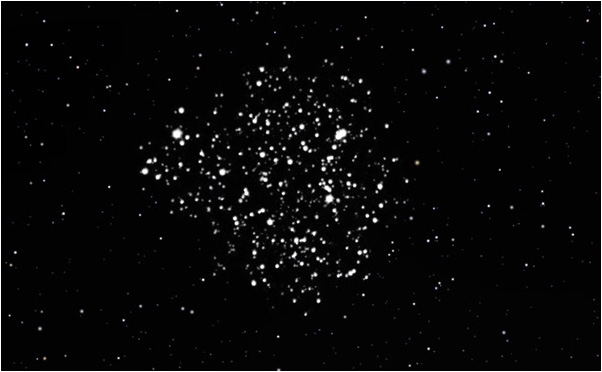 M35...
...is an example of an Open Cluster. It is located near the foot of one of the twins in Gemini.
( Welcome | About Me | Gallery | Links | Site Map )
---
Last Updated:
Monday January 14, 2008

by Elizabeth Warner

© 1995 - 2008 Elizabeth M. Warner