Thousands of Prince George's County residents were still without power late yesterday and nearly 1,000 people could be out of their homes for weeks or months in the aftermath of Monday's deadly tornado that damaged hundreds of buildings from College Park to Columbia.
Local and state officials are trying to estimate the damage wrought by the category 3 tornado that killed two sisters on the University of Maryland campus. Authorities said the damage will be in the many millions of dollars.
Yesterday, they tried to catalogue the destruction: 12 buildings damaged on the university campus, including a student apartment complex left unsafe for occupancy; three main stores in the College Park Marketplace shopping center rendered unusable; 70 houses in Laurel and 19 town houses in Howard County too unstable to live in; scores of cars totaled; uncounted shattered windows; and thousands of downed trees.
"It was very extensive devastation," said a stunned Gov. Parris N. Glendening (D), who traced the 10-mile path of the storm on foot and by helicopter yesterday. "Far worse than any of the natural disasters I have witnessed as governor."
Prince George's fire department spokesman Mark Brady said it would be tomorrow before more accurate dollar estimates are available.
The director of the Maryland Fire and Rescue Institute, whose temporary home on the university campus was destroyed, estimated the cost of the institute's computers and other training materials alone at about $1.5 million.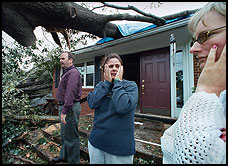 Liz Whitmore of Beltsville, center, and co-workers Gary Wagner and Susan Lareuse inspect damage to Whitmore's home after an oak tree smashed into it Monday. (Robert A. Reeder - The Washington Post)
And a spokesman for the Roman Catholic Archdiocese of Washington estimated that it will cost at least $300,000 to repair St. Joseph's church and school in Beltsville.
University President C. Daniel Mote Jr. said the deaths of sisters Colleen and Erin Marlatt have shaken the university, but noted that with the massive destruction on campus, he was surprised that more people weren't seriously injured.
"We had 15 seconds to respond," said Mote, whose official residence was the first structure hit on campus. "There was no possibility of evacuation."
Classes, canceled yesterday, will resume today.
At the National Agricultural Research Center in Beltsville, where several buildings were damaged, power was still out in parts of the facility last night and it was not clear what would be open today. The George Washington Carver building will be open, however.
In addition to the Marlatt sisters -- whose car apparently was hurled over an eight-story dormitory before it was slammed into the ground -- a 78-year-old volunteer firefighter from Bowie, Clarence Kreitzer, died of an apparent heart attack while on his way home after helping search and rescue workers until late into Monday night.
Lt. Fred Carmen of the Laurel police department said the timing of the twister spared lives because few people were home.
"Had it hit in the middle of the night, no doubt the scene would have been much worse and we'd be pulling bodies from the houses today," Carmen said.
The twister first set down in Spotsylvania County, Va., and passed through Fairfax and Arlington counties before crossing the Potomac River into the District, according to the National Weather Service. It shattered windows and toppled trees in Northern Virginia, causing 11,000 people there to lose power Monday night.
In its wake, the storm system dumped torrential rain on some parts of the region -- four inches in Leesburg, 2.8 inches in Herndon, 3.6 inches in Damascus.
But it was not until the tornado crossed into Maryland that it picked up truly destructive strength. Yesterday evening, 3,000 homes in Prince George's were without electricity, mostly in the College Park area. Officials at Potomac Electric Power Co. said many customers could remain without electricity until Friday.
At 5:40 p.m. Monday, several employees were still in their temporary offices at the Maryland Fire and Rescue Institute -- three trailers and a small metal-frame structure near Byrd Stadium at the university.
As the sky grew dark, the air pressure abruptly dropped. "All of us were holding our ears," said employee Ann Davidson, who was in the metal-frame building with five colleagues and her 12-year-old daughter.
Davidson yelled for everyone to get under their desks. As the twister -- with winds of about 200 mph -- hovered overhead for about 20 seconds, it demolished most of the building. "I was holding on to the carpet. My feet were dangling above my head," Davidson said.
"It was terrible," said her daughter, Imogene Davidson White. "I just wanted it to be over."
Steven Edwards, director of the institute, said the wind picked up the building, then dumped it back down in pieces. The seven were protected from the falling debris by the desks. Six of them suffered bruises and scrapes; a seventh remained hospitalized yesterday with a ruptured spleen.
Edwards said that three employees were temporarily trapped in the rubble of two trailers. A student employee was thrown from another trailer but landed safely in a dumpster.
Minutes later, Terry Parfitt and Lou Slevin were watching the storm from the press box above the Laurel High School football field when they heard a roar like a freight train and saw something that made their hearts drop: a black funnel cloud looming above the edge of the school's social studies wing and heading straight toward them.
"I looked at Lou and said, 'I don't know if we can make it if we stay here,' " said Parfitt, the school's athletic director.
He and Slevin, an assistant coach, tore across the field and hurled themselves into a reinforced doorway just as the twister peeled off the top of the school's roof, then tore into the press box.
Classes were canceled at Prince George's schools yesterday; they will resume today, even at Laurel High.
From there, the storm swept north to the Fairlawn neighborhood of Laurel, where Tom Junkins was turning over sausages on his outdoor grill.
"You're crazy, cooking hotdogs while there's a tornado watch!" Junkins's neighbor Ronnie Garrett called out across the driveway.
The two men laughed, then froze as they heard a low rumble and watched the sky darken. They stared at each other, then yelled, "Basement!"
Garrett, 33, and his mother, Lynn, scrambled downstairs seconds before they felt the roof and walls of their brick- and aluminum-sided ranch house lift off.
"There was this horrible, deafening sound I hope I never hear again in my lifetime," said Lynn Garrett. "And then we could see light and the sky and all these things falling in."
In Laurel, officials said that 150 to 175 homes and business were damaged, including 70 so badly that they are a risk to enter. At least one home was completely shorn of its roof and walls. The town's historic section suffered serious damage; the oldest building in town will have to be torn down.
Across the county line in Howard, Steve Holson scoffed when his father-in-law -- "the weather nut" -- called to warn him about the tornado. Then he saw it. He rushed his family into the basement and threw a futon mattress over his wife and children. They, and their house, emerged largely unscathed.
Neighbor Terry Donnelly was not as lucky. He and his wife, Marcia, made it safely to the basement. A minute later, though, they knew things were bad. "Just coming up the stairs, you could see the sky," he said. Their house will have to be demolished, he said.
Forty-three homes were damaged in the Howard community of Settler's Landing, county officials said, 19 of them so badly that families had to move out at least temporarily.
To the south at the University of Maryland, where the tornado took its deadliest toll, hundreds of trees were uprooted or snapped in half in the northwest corner of campus near Byrd Stadium. Three hundred cars were damaged or destroyed.
After the fire institute trailers, the most seriously damaged building seemed to be the University Courtyard apartment complex. Half the roof was ripped off, forcing the evacuation of 704 students. Yesterday, university officials called on other students to take in the displaced students temporarily. About three-quarters will be able to return to the apartment complex within a week or two, officials said, but others will have to wait a month or more.
A child-care center that suffered some damage will remain closed through the end of the week.
Although performances and many other events have been canceled at the slightly damaged Clarice Smith Performing Arts Center, a grand-opening gala will go on as scheduled Saturday. The Maryland-West Virginia football game will be played at the stadium as scheduled that day.
Students spent much of the day wandering the campus to view the damage and check on the well-being of their friends. Many were impressed to see students rush out Monday evening to help the injured.
"It's brought out the best in people," said Joe Scovitch, a sophomore from Hagerstown, Md. "I see people doing things for each other that they hadn't done before, just being there for each other."
Staff writers Jamie Stockwell, Nurith C. Aizenman, Maureen O'Hagan, Phuong Ly, Matthew Mosk, Nancy Trejos and Ian Shapira and special correspondent Steve Schmadeke contributed to this report.