---


BHBGC Soccer Photos
---
Send me photos from Berwyn Heights soccer activities and I will try to make a reasonable number of them available.

Click on the images to see larger versions.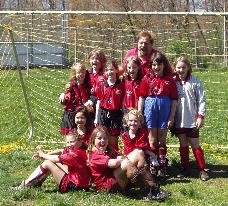 The 2003 Spring Berwyn Heights U10 girls team after the last game of their season, at a muddy Berwyn Heights Sports Park. The girls finished with a 3-2-1 record in the Prince Georges County AA League in just their second year together. Team: Coach Bern Vugrin. Back row: Katia Harper, Holly Vugrin, Emily Lindsay, Natalya Dorland, Kaitlin Townsend-Gray, Jessica Taylor. Middle row: Jo Demino, Molly Carlson. Front row: Ayla Santos, Becky Buker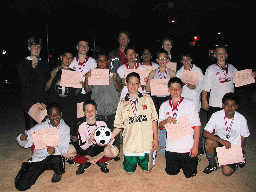 The 2002 Spring Berwyn Heights/College Park U14 boys team after winning their division of the College Park tournament on a "golden goal" in overtime. The team also won the PG County U14 Spring AA County Championship.