Life In Cambridge, Part III
December 2003-March 2004
---
We got off to a great start with our first two letters, but them somehow never got around to writing anything else until after our trip to France in April! These are the highlights of the intervening months...
For more info about our Holidays in Edinburgh, click on this link
---
| | |
| --- | --- |
| | December 2003: The Mayfield (Primary School) Christmas Show. We had the rather surreal experience of watching our first school Christmas Play, as England most definitely does NOT have separation of Church and State. Most of the play was just nursery rhymes with Father Christmas showing up at the end... a bit bizarre, but cute. However, by school tradition, the youngest class presents a version of the Nativity Story. So although Naomi played a soldier in a song-and-dance routine about Humpty Dumpty, there was Rowyn, our pagan Jewish daughter, playing the Angel Gabriel! |
---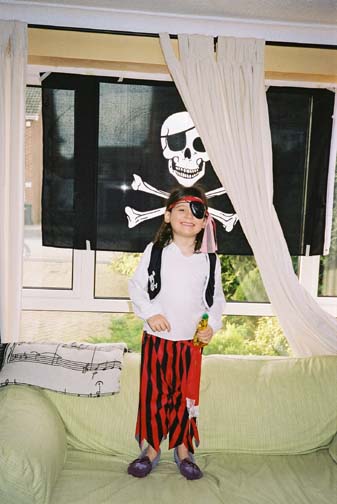 January 2004: It felt very odd to not throw a New Year's Eve party this year. We had a very quiet evening, just the four of us, and went to bed disgustingly early. However, in early January we finally got around to throwing a Housewarming Party. Between the people Alan has met through work, families we've gotten to know through our kids, and a bunch of neighbors, our house got quite warm! The kids got a final treat before school started up again, when we took them to see the Wizard of Oz at the Cambridge Corn Exchange (an old converted grain exchange hall: you can imagine just how good the acoustics are). The witch actually flew above the audience (on a very noticeable wire, but the kids didn't care), and the overall production was done well. They both still occasionally sing snippets from the show. Now we need to find a copy of the movie for them. [update 12/04: we now have a copy and Rowyn wants to be Judy Garland when she grows up...in fact, if we have to hear "Over the Rainbow" one more time...]

Alan went off to Oxford for a few days for a conference (or so he claims!). Our local pub, the Carlton Arms threw a Mini Beer Festival (no, the beers were real sized; the festival was mini) with a nice selection of local real ales on tap. We did our best to get through as many of them as possible. Rowyn celebrated her 5th Birthday with a Pirate Party, complete with a pirate flag, a treasure hunt, and gold coins for all. Arrrggg!!



Debbie started rehearsals for Yeomen of the Guard, which she directed for the Cambridge University Gilbert and Sullivan Society. We also had a rare occurrence: SNOW in Cambridge on the 28th! It was quite the adventure for Alan trying to bike to work, as they only clear major roads, and just leave the rest to ice over and eventually melt. The girls were so excited. Although they had seen snow in Edinburgh, they'd never woken up to fresh snow before. We'd been having a lot of frosty mornings, so that morning Naomi said "Mom, it's all icy out." Her face just lit up when Debbie said "it's snow!" The roads were still so bad the next day that schools were closed: their first snow day. We wrapped up the month with a grownup-only outing to a concert for Alan's birthday. It was a student orchestra performing, so the quality was mixed, but it was a fun night out.


SNOW! IN OUR FRONT YARD!!!
---
(February) We had fun at one of Alan's colleagues semi-regular poker nights, losing only about one pound over the evening. We continued our gambling streak at the Carlton Arms' Casino Night, which was a black-tie charity fundraiser. Five pounds bought 500 pounds worth of play money to use at Blackjack and Roulette tables, plus they had fancy mixed drinks available at the bar (remember, this is a pub, not a bar, so although they have hard liquor available, they don't usually do drinks requiring mixers, blenders, shakers, etc.). Later in the month, Debbie attended a "Formal Hall" at Sidney Sussex College with some of her Yeomen cast members on the same evening that Alan attended a black-tie concert at "his" college, Gonville and Caius. A Formal Hall is a peculiar Oxbridge institution where colleges maintain the illusion that the lower classes are there to serve the people wearing tuxedoes. Now if they were house-elves...

Here at home, we had our first dinner party since moving to England. We also threw a mid-way-through-rehearsals party for the Yeomen cast, which was a huge amount of fun. It wasn't all just school for the kids this month, as they had a week off for half-term, during which we all paid a visit to nearby Wimpole Farm. This is a fully restored Manor House with a working farm. The kids saw lots of animals, they got to feed some goats, and they learned how to make butter.

Rowyn the Milkmaid
---
| | |
| --- | --- |
| | Our February dinner party went so well, we had a couple more in March. The biggest thing in March, however, was Debbie's production of Yeomen of the Guard. Yes, a Yank dared to direct a hallowed Gilbert & Sullivan production, not only in England, but in Cambridge, that bastion of all things old and traditional (D: I was going to say outdated and medieval, but I do like G&S, or I wouldn't direct it). Some of the (overheard) audience comments, to paraphrase: "extremely well done, what a talented cast, what a fun evening, one of the best things I've seen in Cambridge..." Direct comments from cast: "the most fun I've had doing a show, the best thing I've done in Cambridge, the best show I've ever done, thank you so much for working with us." Direct comments from audience: "very well done, really enjoyed it, fabulous." Indirect comment, passed along to Debbie, from the president of the local amateur Cambridge Operatic Society, which does a lot of G&S: "the best G&S production I've seen in Cambridge." More importantly, Debbie had a great time working on the production, and the cast knows how to party! |
A side benefit of the show: Michael Hall, a cast member, finally explained to Alan how to do English crosswords by "setting" two of them for Yeomen cast with lots of G&S references. English crosswords are quite different from the American version, and far more tricky and difficult. If anyone would like to give it a go, we can email one to you. As if we didn't have enough going on in March, Alan also attended his first Formal Hall. As it was the same night as the closing night party for Yeomen, we arranged for the girls to have a sleep-over at a friends' house, which was a great success.

The girls' school held a Science Week in March, so Alan gave a presentation on the Solar System. There was also a Science Day at DAMTP (Alan's department), which Naomi went to with Alan. The most exciting part of the day was when high winds caused a brief power outage. It was quite the month for Naomi, as she got new purple glasses, and she lost her top two front teeth just before her 7th birthday! She opted for a Princess & Princes Party, so her guests got crowns and tiaras and made feather masks.

All I want for Chanukah...

Boyfriend No. 23345 B (Has he noticed her new glasses?)
---
| | |
| --- | --- |
| | Debbie's folks came for a second visit from late March through early April. This turned out to be quite handy, as Alan had a conference in La Thuile in the Italian Alps (the "skiing physicists conference"), and Debbie was able to go join him for part of the week. Alan learned how to snowboard and managed not to break anything (sprained a few things, though, including his stomach muscles from all the getting up after falling down...no poles, you see). All six of us had a really fun seder to celebrate Passover together the following week. It was the first year that both girls could really follow along and understand what was going on (and were excited to ransom the afikommen properly). A few days after Debbie's folks headed home, we left for France for the rest of the kids' spring break (see the next link for more details). |
---