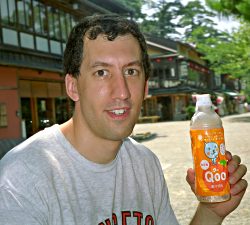 Project links: HNBody RPLsh Views of Black Holes


Welcome to my home on the web. If you know why you've come, the links above should send you on your way. If you've stumbled here by accident.... hmmm, then I suppose you're on your own! That's me enjoying a Qoo at Kenrokuen, in case you were wondering. At any rate, never forget: no matter where you go, there you are.
[Banner image: sunrise from the summit of Mt. Whitney, CA.]
---
Last modified: Mar 20, 2007. Photographs are copyright © 1992-2012 Kevin P. Rauch. All rights reserved.