Startup
Once the CS-100 in the rack is powered on, you are ready to initialize the IMACS software for MMTF use and perform set-up calibrations.
Procedure when starting MMTF at the beginning of a run:
If the IMACS software is already loaded, exit the software.
Run the IMACS Setup Tool (command % imacs setuptool, which must be run from the imacs account) to input the CS-100 settings that presently appear on the front panel dials . The settings are those originally dialed in, plus any changes made to tweak the balance.
As the imacs user (type: "su imacs"), go to the home directory (type: "cd") and initialize the MMTF software by typing: "touch .imacs_use_script"
Exit superuser account.
Start up the IMACS software (% imacs).
Run standard IMACS initialization procedures.
Open the HardHat GUI to enable changes to Xfine and Yfine.
Parallelize the etalon. [procedure]
Check the position of the optical axis. [procedure]
Take a reference ring and data sausage in each filter the observer will use. Be sure to first optimize the parallelism in each filter. [procedure]
Procedure if MMTF has already been set up, and you are simply changing the value of Zcoarse in the middle of a run:
Cam GUI
When MMTF is properly initialized by touching the .imacs_use_script file in the observer's directory, a new version of the f/2 CamGUI is enabled: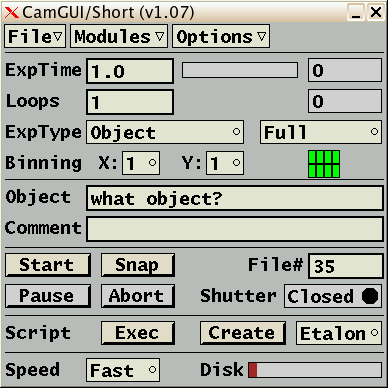 MMTF version of the CamGUI.
The additional Script section of CamGUI allows the following tasks:
Exec: Run an etalon script (opens a confirmation dialog box).
Create: Create an etalon script for observing, data sausage calibrations, or parallelism calibrations (opens a dialog box).
There is also a new ExpType: MMTF-Shuffle, for the charge shuffling / freqency straddle observing mode. Selecting this opens a dialog box.
HardHat GUI
Part of the HardHat GUI is specifically devoted to MMTF:
MMTF area of the HardHat GUI.
This additional area enables the following:
Control of the CS-100 is released from / acquired by the IMACS observing computer with the Etalon button. Control of the CS-100 should be returned to the instrument front panel if, e.g., the etalon goes Out of Balance, Zcoarse needs to be changed, or the CS-100 is being turned off. On pressing the Etalon button, the user will be prompted to release the etalon. Once it is released, the button will alternately flash red and black and the Disabled LED on the CS-100 will turn off. When the button is pressed again, computer control is re-acquired, the Etalon button stops flashing, and the Disabled LED illuminates.
Xfine and Yfine are adjusted only through the dialogue boxes in the HardHat GUI. Zfine can be changed either here, or in the MechGUI.
The front panel settings, as specified in the IMACS Setup Tool, are displayed here. (I.e., if they were entered incorrectly into the Setup Tool, they'll be wrong here, as well as in the FITS headers.)
NOTE: The X, Y, and Z fine computer units uniquely specify the absolute plate spacing only in reference to the CS-100 front panel dials. When the front panel dials are set and control of the CS-100 is acquired by the IMACS computer, the computer X, Y and Z fine values are set to a reference value of 2048. Changes in X, Y, and Z fine are then defined such that 2048 computer units = 1.00 front panel units, or 1/10 of a full dial turn. (However, the values initially displayed in the HardHat GUI when IMACS is started may not always be the reference values.)