In the news...
On Starry Nights, Let Your Eyes Wander
By Raymond M. Lane
Special to The Washington Post
Friday, January 20, 2006; Page WE55
"Wow, I can't even imagine how big it is," said Clarissa Balint, taking a breath. "So many suns and solar systems out there in the universe."
She is 12 years old, all teeth and earnest smiles, a sixth-grader from Mount Rainier in Prince George's County.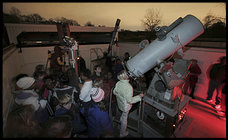 Media Credit: (Sarah L. Voisin - Twp)

Shivering, but in wonder, she balances on a rolling steel staircase next to what looks like a washing machine held high overhead by a giant metal hand.
Stars and a waxing moon crawl across the heavens as she touches her eye to the barrel of a 14-inch telescope lens. She is on a school outing with 25 classmates, her father and other parents, and her teacher from Forcey Christian Middle School in Silver Spring.
They've come to the University of Maryland for a look at the night sky through three big scopes arrayed in the observatory shed hidden way back in the dark woods near the College Park campus. The observatory's flat roof rests on what look like jumbo file cabinet tracks and is rolled off to the side to let in the starlight.
"We hear a lot of 'wows,' " said observatory director Elizabeth Warner, "especially when the sky is clear."
Thousands of area youngsters make the same discovery every year. With the help of undergraduates studying astronomy, Warner continues the university's 40-year tradition of free open houses. They are every 5th and 20th of the month, no matter what the weather.
Groups (adults or children) can phone ahead for a private, one-hour session at 7. At 8, the public is admitted.
Clear winter nights are particularly crowded because they are well suited for stargazing, Warner said.
In addition to U-Md.'s facility, there are several other observatories where visitors can look through a big scope. The U.S. Naval Observatory in Washington has public tours with viewing on select Monday nights. (Make reservations at the Web site below.)
Another place for beginners is among the lively community of local amateur astronomers. They haul out their smaller scopes for regularly scheduled "star parties" in area athletic fields, parks and other dark places away from the light pollution of suburban sprawl.
Their telescopes range from milk carton- to refrigerator-size contraptions of all shapes and kinds, both store-bought and homemade. Stargazing by this crew may last far into the night, with tailgate pantries loaded with lots of hot soup and cider in winter, and cold drinks and bug spray in summer.
"These are great places for a youngster or adult beginner to start," Warner said. "These guys can teach you how to work a telescope -- they're not easy -- and you can check out the star charts and books and other gadgets amateurs use to explore the skies without having to actually buy any of the equipment or books.
"They love to share, to show off a little," she said.
That's the little secret of astronomy. Amateurs love the stars and delight in sharing their scopes with anyone interested in the classics of the night sky -- the Crab nebula, Jupiter's moons and Saturn's rings, the moon's craggy surface.
"They'll stay up with you all night showing you around the galaxies, if you let them," Warner said.
Amateurs are enthused about manned space exploration, too. Using charts and Web sites, they enjoy pointing out the fast-moving bright dot of the international space station's orbital pass every hour. New satellites, and especially liftoffs of the space shuttle or Russian or Chinese manned flights are avidly followed, she said.
At the College Park observatory, the script is more settled. The Forcey school group's car caravan was met at the entrance by college students waving red-lensed flashlights -- red light does not interfere with one's night vision -- directing drivers over a beat-up dirt road to the dark parking lot.
They had to pass by a car full of what looked like college students stuck in a ditch by the entrance, inattentive perhaps to directions or flummoxed by the deep darkness at the observatory. But most visitors make it without mishap to the lot, where red-tinted stanchions trace a pathway leading to a low-slung classroom beside the observatory.
There, in more of the red-lit dimness, Warner breezes through a slide presentation. Folding chairs and big chunks of useless telescopes decorate the heated room. Soon the undergraduates hustle the kids out into the cold for their turns on the big scopes.
"Sometimes parents will bring little bitty kids," Warner said, "little guys who have no idea how to look through a telescope."
Young children can't close one eye to look through the lens, she explained, laughing as she recalled when a small child first tried one eye at the lens, then the other, and ended up with the eyepiece pressed between his eyebrows, Cyclops-like.
"It's wonderful when they're old enough to enjoy looking at the stars," she said, but cautioned that parents should hold off until the child is 5 or older before visiting a big telescope.
"But don't wait too long," said Sten Odenwald, an astronomer at NASA's Greenbelt facility. "For many children, the primary experience of looking through a telescope at the universe is the one and only contact they may have with the concept of infinity," he said.
"Think about it, " said Odenwald, author of "Patterns in the Void," a philosophical examination of his personal views on astronomy. "For many kids today, their lives are constricted by the media -- the computer screen, their television, their iPod -- in a crazy consumer society ringed by gridlock on the Beltway," he said with a laugh.
"But when a child sees the night sky up close, something else happens," Odenwald said. "You can't think about the universe very long without tapping into a spiritual or emotional space within yourself.
"All of that from sitting out with the stars," he said.
UNIVERSITY OF MARYLAND OBSERVATORY
www.astro.umd.edu/openhouse
Open house Friday at 8. 3300 Metzerott Rd. between Adelphi Road and University Boulevard in College Park. 301-405-6555.

Here are the online addresses of some area astronomy clubs, university observatories and related groups welcoming beginners, especially children, to check out their telescopes.

NATIONAL CAPITAL ASTRONOMERS
http://www.capitalastronomers.org

U.S. NAVAL OBSERVATORY


ASTRONOMICAL SOCIETY OF GREENBELT
http://www.greenbeltastro.org

NORTHERN VIRGINIA ASTRONOMY CLUB
https://www.novac.com/wp/

ANALEMMA SOCIETY/GREAT FALLS
http://www.analemma.org

HOWARD ASTRONOMICAL LEAGUE
http://www.howardastro.org

MARYLAND SPACE GRANT OBSERVATORY
https://md.spacegrant.org/observatory-open-house/

BALTIMORE ASTRONOMICAL SOCIETY
www.baltastro.org

DELMARVA STARGAZERS
http://www.delmarvastargazers.org

HARFORD COUNTY ASTRONOMICAL SOCIETY
http://www.harfordastro.org

WESTMINSTER ASTRONOMICAL SOCIETY
http://www.westminsterastro.org

TRI-STATE ASTRONOMERS
http://www.tristateastronomers.org

SHENANDOAH ASTRONOMICAL SOCIETY